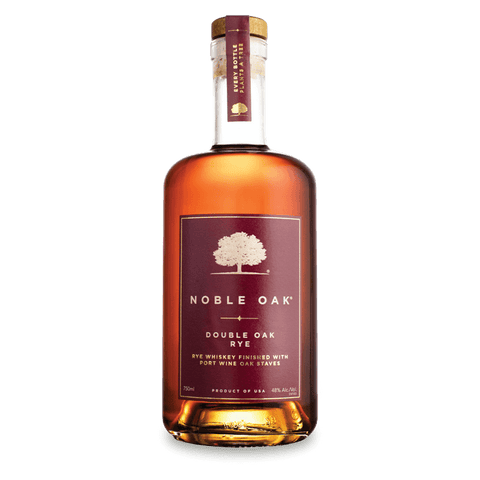 Noble Oak Double Oak Rye Whiskey 750ml
Checking local availability
Commercial Description
A great whiskey with a noble heart, Noble Oak Rye is first rested in new charred American oak barrels for a minimum of one year. Then it is finished using port wine cask staves to imbue an additional layer of flavor and complexity. The result is a unique rye, elegantly balanced and bold in flavor with notes of fig, toffee and spice. Our commitment to oak transcends our whiskey, because every bottle plants a tree in partnership with One Tree Planted in an effort to preserve the world's most majestic forests.

Notes of sweet brown sugar and maple syrup dissolve into a sharp profile of green pepper and grass, closing with an austere rye grainy spice

NOBLE OAK is a unique award winning bourbon with a worthy purpose. We at Noble Oak are fanatics about wood. That's because 70% of a bourbon's flavor comes from the wood. With Noble Oak, we elegantly marry two of the world's most coveted types of oak used in whiskey making: American White Oak and Spanish Sherry Oak. We use time honored methods and our patented Compression Finishing™ process to create an unrivaled bourbon with body, deep color, and richness of flavor from some of the finest sherry oak staves. The result is a Great Bourbon with a Noble Heart.