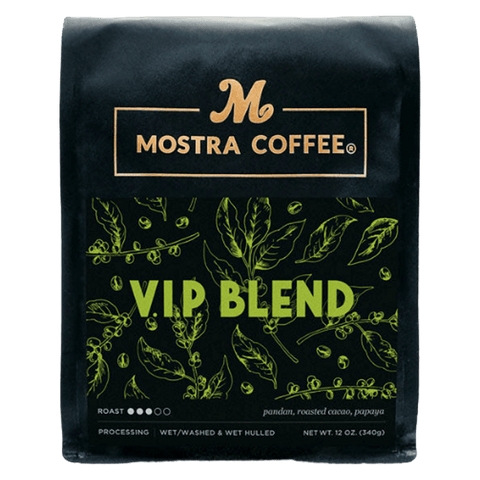 Mostra Coffee V.I.P. Blend 1LB Bag
Checking local availability
Commercial Description
Flavor Notes: Pandan | Roasted Cacao | Papaya
To quote Mr. Fudge in Harry Potter, "He's back!"
No, we're not talking about He who shall not be named, it's V.I.P. Blend! Your new favorite medium roast blend.
Recently we found some standout coffees from southeast Asia, and to highlight a region that doesn't get a whole lot of love we created this V.I.P. Blend. We feel the V.I.P. 's are the producers at origin in coffee, and that the peoples of these countries needed a little shine.
When most people in the coffee-drinking spectrum think of places where coffee originates, the top dogs are always the same. Colombia and Juan Valdez. Brazil as the largest producer. Ethiopia as the birthplace. Kenya and Panama for the priciest (and usually worth it) lots of green coffee.
While in recent decades Sumatra has gotten a big push and some high-scoring coffees, coffee from other lands in that great sea usually elicit, "Is that even Arabica? Is it 'Specialty Grade'?" Well, sit down and let us tell you a story...
Through a cup of coffee that is supremely balanced, perfect for a milk-drink espresso, and sweet as all-get-out. This blend is, naturally, only seasonally available, but we take great pride in finding elements of all the world's best coffees to distill down to something that is approachable and unique.
Vietnam works as a malty chocolate base for this blend, with the Sumatra contributing tropical and rustic notes, and the creamy sweetness of the Philippine coffee ties it all together. This is a favorite for a reason.