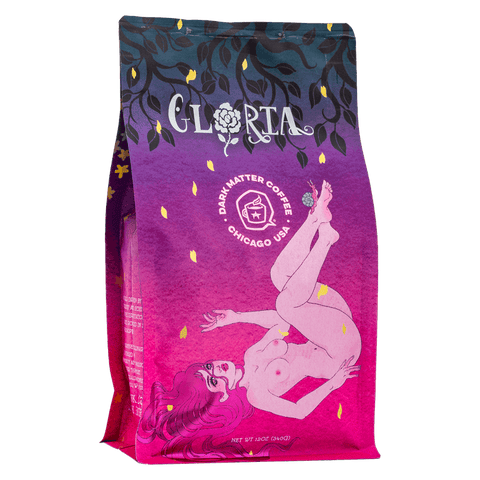 Dark Matter Gloria 12oz Bag
Checking local availability
Commercial Description
Empowerment is a word that requires actions; claiming self-worth, practicing self-love, and cultivating an environment of acceptance and power. Enjoy this bold, dynamic coffee with flavors that invigorate with every sip.

Isamar Medina (AKA Kawaii Suga) is a Mexican-American, Chicago South Side native. Her art explores the hypocritical social taboos women face, subverting ideas of femininity and control. She is an avid supporter of Chicago's art community, taking part in various shows and curating an annual sticker exhibition, Slaps! Her goal is to empower women and other artists still trying to find her voice.

An elegant Bourbon from Santa Petrona El Salvador creates a sweet, well-rounded base for this blend, paired with a rich, fruity Sarchimor from the exquisite Finca San Jeronimo Miramar Guatemala. Both honey-processed coffees intertwine for an uplifting profile of raspberry truffle, shortbread, and cinnamon stick notes. Drink a cup, find your voice, and show the world what you're made of!